Update: So while the EST199N label is a match, the canning date is out of range of the recalled products.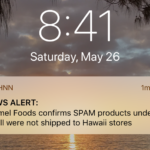 So Hormel Foods sent out a recall of it SPAM Classic due to metal found inside. Supposedly, Hawaii is unaffected by the recall of 228,600 pounds of SPAM since supposedly none of the cans were sent to Hawaii.
The identifier of the recalled items have the Establishment number (EST. 199N) printed on the bottom of the 12-oz cans. It looks like this.
So unless the period of "EST." vs "EST" makes a difference, I have one can of these recalled products. Any takers on eBay?