Bought some newly available Starbucks VIA Ready Brew Iced coffee yesterday and am ready to live taste this drink.
Got my supplies sans the ice (I don't really trust the ice here).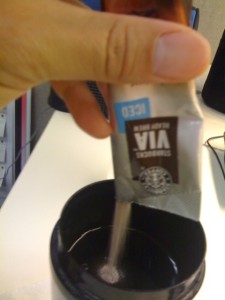 12:35 That packet is full! Stirring… Lots of coffee crystals to dissolve. After about a minute of pouring and stirring, I think all the mixture is finally dissolved.
12:37 First sip. Slightly sweet… No creamer or ice added. Bitter aftertaste typical.
12:38 Does resemble a Starbucks iced coffee bought in stores. Probably more so, with ice and half and half (my usual concoction).
12:39 Very passable, especially for the cost. About $5-6 bucks for a 5-pack.
12:40 With each passing sip, the aftertaste gets stronger and stronger. I think creamer and ice would help mellow out the drink.
12:53 Getting that caffeinated rush feeling.
1:13 Getting giddy and mind is all over the places. Must focus.