Okay, the Hottest Local Newscaster Listmania is now over. Thanks to everyone who voted and commented!
According to you, the top two hottest local newscasters are Stephanie Lum and Dave Erickson, both from KHNL.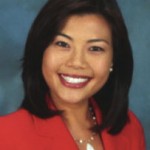 Here are the final voting results.


Stephanie Lum (7)
Dave Erickson (4)
Shawn Ching (3)
Liz Chun (3)
Tasha Kobashigawa (3)
Mahealani Richardson (3)
Sharie Shima (3)
Joann Shin (2)
Paula Akana (1)
Diane Ako (1)
Marisol Borromeo (1)
Ben Gutierrez (1)
Trini Kaopuiki (1)
Robert Kekaula (1)
Reid Shimizu (1)
Kuualoha Taylor (1)
More stats and analysis.
Stations with the Hottest Newscasters
KHNL (6-Lum, Erickson, Shima, Shin, Ako, Shimizu)
KITV (6-Kobashigawa, Ching, Richardson, Gutierrez, Akana, Kekaula)
KHON (2-Kaopuiki, Borromeo)
KITV (2-Chun, Taylor)
Hottest Newscaster Staff Position
Anchor (6-Lum, Kobashigawa, Ching, Richardson, Ako, Akana)
Reporter (4-Erickson, Shin, Kaopuiki, Borromeo)
Sports (3-Chun, Shimizu, Kekaula)
Meterorologist (3-Shima, Gutierrez, Taylor)
Number of Voters Who Voted for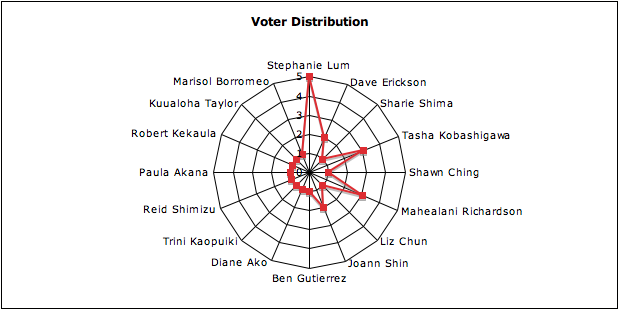 Commentary
Stephanie Lum started with an early lead and kept it (maybe something about marathon runners being hot). Dave Erickson jumped to second place at the very end, followed by a bunch with three votes each. The anchor spot got the most votes and watch KHNL or KITV for friendly faces.