Let me rewind a bit. After a routine eye exam, my doctor said my prescription has been changing over the years and recommended getting new eyeglasses. Only having had like two, maybe three, pairs of glasses before, I really don't know where to go so I figured I go to LensCrafters since they're around most malls.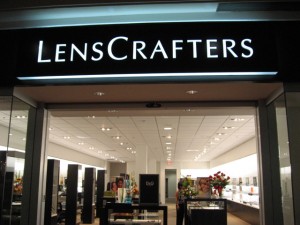 I went to Downtown Pearlridge to the Lenscrafters next to Longs. Instead I find a vacant spot with a sign saying they've relocated to a new location in Uptown Pearlridge (no specifics on location where though). So after getting lunch and a drink from Seattle's Best, I go to Uptown. I headed towards the Borders side of Uptown figuring there's lots of space for new stores, but the store wasn't there. I finally found it next to Macys where McDonalds used to be. It's a nice place that just opened that day.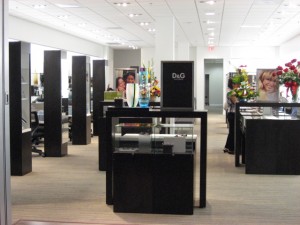 As I'm walking around looking at the wall of eyeglass frames, one of the workers comes up to me. But instead of greeting me, she (politely) asks me to leave the store since I have a drink, my coffee from Seattle's Best. I was surprised since this has rarely happened especially in this age of supersized drinks, juice stores, and coffee bars being the trend. And oh yeah, there's no sign or anything at the entrance saying the usual "No pets or food allowed."
I told the employee that I was surprised about this, and she said they wanted to keep the store clean since they just opened. Understandable, but then again this is Pearlridge Mall which is a shopping center which relies on foot traffic, and there are eating places in the mall, and it is flanked by Starbucks in Borders, in the center, and near Circuit City, and it is only a matter of time before the store gets tainted. Oh well… I oblige and walk outside to finish my drink.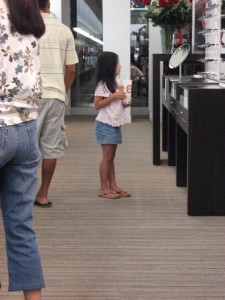 Then a few minutes later, a little girl with her dad goes into Lenscrafters, and the girl is drinking a juice smoothie from Robeks(?). So I watch her while standing right in the entry way of the store. I see the same employee who asked me to leave look at the girl, but she does nothing! She doesn't go to the father and ask them to leave the store. What's up with that? Okay, I do respect being asked to leave the store due to my drink but not following this so-called policy in a consistent fashion is not right. If you ask me to leave because of a drink, ask EVERYONE with a drink to please leave the store.
So Lenscrafters in Uptown Pearlridge, you lost a customer on your opening day. Instead of trusting and welcoming your customers, you treated them to inconsistent policy and worried more about the aesthetics of your store. Unfortunately, since I don't know much about eyeglasses, I'll probably have to go back to a Lenscrafters, but it'll be another location.
Inspired by the ranting of the Angry Asian Girl.