LG's 31-cu ft behemoth of a refrigerator is no longer a Home Depot exclusive. It's available at Sears under the Kenmore Elite line (model 72053), and this week's Best Buy ad shows the LG version on sale (model LFX31925ST).
While most of these models are the same, there are subtle differences, like the fruit and vegetable drawers. The LG version at Home Depot has three smaller drawers while the Kenmore features two larger drawers.
Update: Thanks to reader Fauguy who pointed out that the freezer drawers and water dispensers are also different.
The other major difference is cost.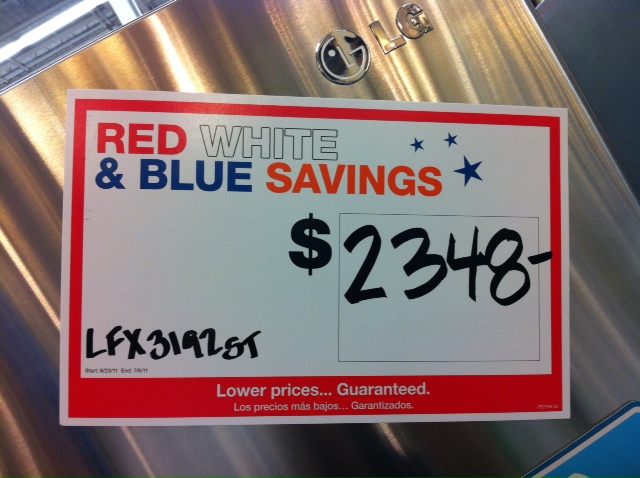 Home Depot has the LFX3192ST for $2348 and in store, Sears has their 72053 (Sears Item# 04672053000) for about $2500 unless… while taking your vehicle in to Sears for battery maintenance, you wander to the appliance section and see this pricing.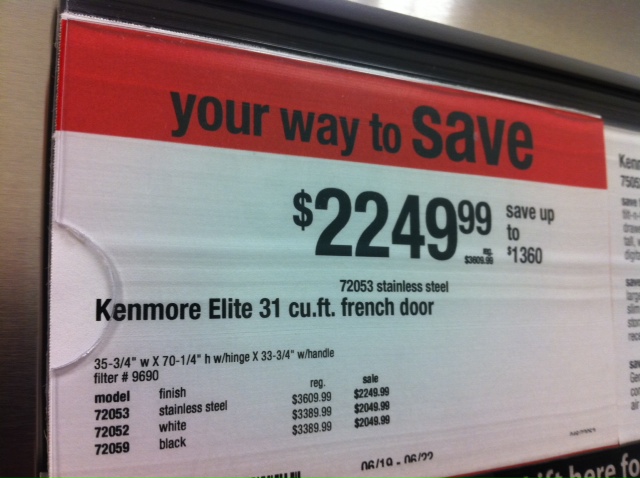 Odd, you think to yourself. At other local Sears locations, you swear the price is higher. Then doing an Internet search, you realize that that price is the online price which shouldn't apply to Hawaii. So… you jump at the opportunity of this printed price and go for it. And sure enough when the register shows a higher price at checkout, the sales guy honors the printed price (then takes the price tag down). And don't forget to use your Sears card for an additional 5% off. 🙂