How was your Thanksgiving weekend? Hope you ate and shop well. I must have eaten very well based on what AI-entity Siri told me via my first generation Apple Watch. Simply put, I overstuffed myself and my watch.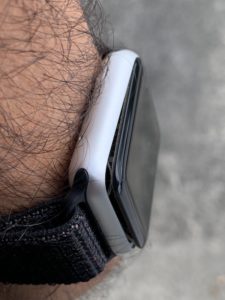 See the face of the Apple Watch separating from the body? Yup, a sure sign of overstuffing. Or perhaps yet another of my Apple devices boycots Thanksgiving?
But really, there is a known issue with swollen batteries for the first generation Apple Watches as I have learned. Amazingly, I text chatted with an Apple support rep on Thanksgiving day and was authorized a return to a service center. A FedEx box arrived on Saturday to ship out the working-but-separated watch. I shipped out on Monday and unbelievably by Wednesday, I had a replacement (first generation) Apple Watch on my wrist.
Thanks Apple! And Siri, I'll try to cut back my eating during Christmas and New Years.