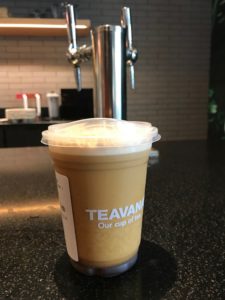 My latest Starbucks obsession is the Nitro Freddo. This drink starts with nitro cold brew on tap. Then it's topped off with a dark caramel foam and a sprinkle of what looks like Starbucks instant VIA coffee.
Alone, the Nitro Cold Brew is a potent drink – highly caffeinated and all coffee flavor. The Freddo balances the cold brew with that wonderful foam. If possible, don't savor the drink and let it sit. Drink the layers as is before everything dissolves together and enjoy the waves of flavor.
Unfortunately, this drink is only available at two locations on Oahu – Waikiki and Nuuanu. Yup, the Nitro Cold Brew is only on tap at these two stores. And this drink is expensive with a grande coming in around $5.70. But since the drink has no ice, it's all Nitro Cold Brew, but it does get lukewarm quickly. Also, this drink has its own special lid made for sipping, not for straws.