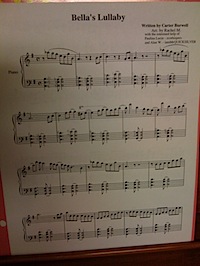 At a family dinner, I heard one of my nieces practicing on the piano. The music sounded familiar even after only a few notes. It was none other than Bella's Lullaby from Twilight! I couldn't believe it until I saw the sheet music with my own eyes.
Besides the soundtrack and forthcoming DVD, I didn't see sheet music as another popular Twilight memorabilia item. Dang, Twilight is simply a beast, not just a box office beast. If you're digging Bella's Lullaby, you can buy the sheet music from Twilight at Musicnotes.
And I underestimated Amazon where I also found the Twilight Score (with complaints about Bella's Lullaby being inaccurate).
Just what is Bella's Lullaby? It's the song Edward wrote inspired by Bella, and it goes something like this…
[youtube https://www.youtube.com/watch?v=9qUM9k1A1nU&hl=en&fs=1]