While driving in the Kailua area, I came across these mysterious white trailers and cordoned off streets. Was this another Samsung commercial? Was LOST back in session?
Nope. Doing some quick Googling led me to "One Kine Day" produced by Haolewood Productions. This local (and self-admitted low budget) film centers around a local skater, his pregnant girlfriend, and their lives "off the beaten path of modern society."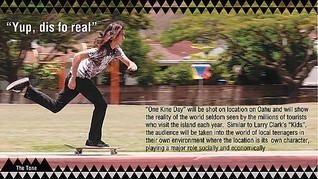 If things go well, the hope is for One Kine Day to premiere at the Sundance Film Festival in January.  Here's hoping for some local kine success.