If the experience at the Four Seasons Lanai at Manele Bay wasn't enjoyable enough, a highlight had to be engaging the resort's Twitter presence @FSlanai. I must admit that I didn't expect much from a hotel chain's Twitter prowess. Most corporations, even high end ones, really don't capitalize on engaging people with social media and networking. Not so with @FSlanai!
As soon as I started tweeting about Lanai, @FSlanai was right there, tweeting back. Any interesting picture I snapped, FSlanai would relay with a retweet. And it wasn't just @FSlanai, but seemingly, the marketing staff of the Four Seasons Lanai got involved with tweets and direct messages from @KatieonLanai and head honcho himself, @tomroelens. What a completely unexpected way to interact with their guests, supplementing the already great IRL service.
What blew me away completely was a Twitter treat I found waiting in our room after dinner on Thursday. Sitting there was a Hawaiian Mai Tai drink kit with a personalized note from @KatieonLanai.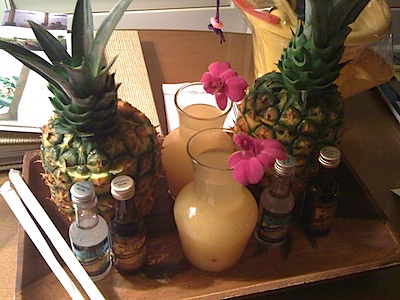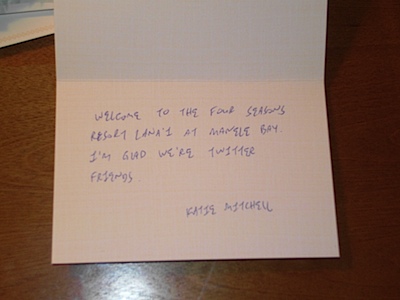 Unbelievable!