Besides learning at [re]think Hawaii, I observed a few things that for whatever reason tickled my mind.  These aren't necessarily derogatory or anything.  They just are. 🙂
All Asians Are Not Alike
Ever since my days at the Asian-laden UC Irvine, I always wondered about the noticeable differences between Asians from Hawaii and Asians from the mainland. There is a difference; you can just tell. Hearing Asians from the mainland speak is the dead giveaway. But often times, you get initial, non-verbal cues. Is it the fashion choice, the personal grooming, the hair? Look at this group picture from [re]think Hawaii, and I think you'll be able to pick out the non-locals.
Well-coiffed Guys
With the mixture of rethinkers in attendance, I'm thinking the dudes were more well coiffed than the ladies. Yup, just my opinionated observation, but the guys were on the fashion edge at [re]think Hawaii. If I didn't love my wife so, I might be man-crushing on Kaiser Kuo's long hair.
Loving Apples and Canons
There was a ton of Apple and Canon love on display. MacBook Pros and Airs littered the conference along with the iconic iPhones. Usually paired with the Apple hardware was Canon DSLR camera gear. I'm thinking this Christmas would be a good time to personally step into the DSLR world
.
Trusting in Paradise
I think Hawaii is a pretty safe place, but I don't know if I would leave expensive Apple hardware unattended.  I lost count of the times I saw unattended laptops like these.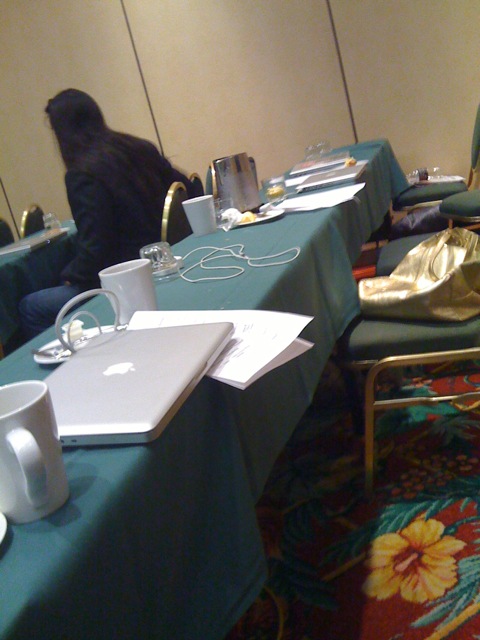 Sure, people were around the conference room, but I wouldn't know whose computer was whose and wouldn't think twice if someone came by and walked away with a laptop. For that reason (and a bad experience with stolen work laptops at Marriott Hawaii years ago), here's my notebook that I came equipped with.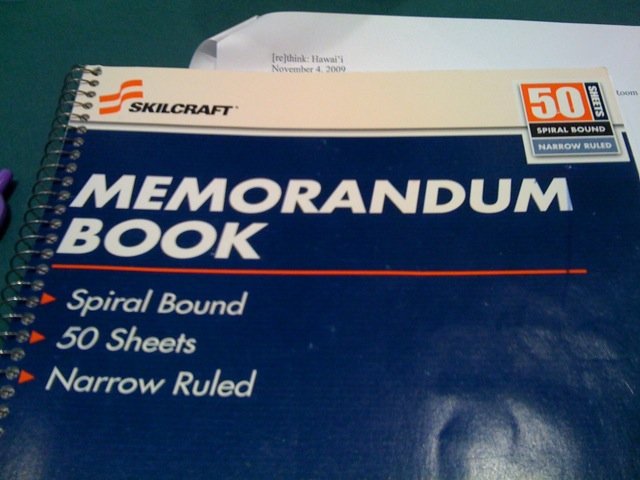 I had no reservations leaving this old school notebook sitting on the table as I took a break from the conference.