Through good graces, you've been nominated and selected to participate in the Navy's Distinguished Visitors (DV) Embark Program. You can let out a "woo hoo," don't be ashamed. As your departure date nears, you'll have to pack for this short but dense trip. What do you bring? Embarking on a military aircraft carrier is not exactly like going on a plush cruise. Typically, the Public Affairs staff will give you great info on what to expect and what to bring. But here are six things that you definitely need to pack.
1. Shower Shoes
Aka "slippers" in Hawaii. A community shower onboard an aircraft carrier is a community shower nonetheless. 'Nuff said.
2. Extra Cash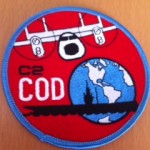 Having extra cash during your stay is a must. For one, you can't use your normal credit card for purchases, and two, there will be many opportunities to buy memorabilia, not just from the carrier but from the units assigned to the carrier group. You'll definitely need to buy a patch marking your first "trap" COD landing on the carrier, and while you're at it, you need to buy a COD patch as well. If the shirt design is cool, add that to your luggage. While on board, you just never know when you're going to meet up with the Death Rattlers. Death Rattlers?! By name alone, you're drawn to buying sweatshirts, stickers, shirts, hats, and whatever else that can rattle death. I wonder if the Death Rattlers sell logo-ed shower slippers? I would have paid for slippers with a rattlesnake pattern for sure.
And then you'll need that cash for the carrier's ship store… oh wait, our group had a change in schedule and didn't make it to the store. This leads me to this tangent…
Tangent: Visit the Ship Store
Even with your embark schedule laid out, you might want to talk to your escorts and see if you can visit the ship's store earlier rather than later. For our tour, our plans changed, and our visit to the tour was canceled. Definitely not a showstopper by any means, but I think most of the group was ready to open up their wallets and load up with Nimitz gear.
3. Cargo Pants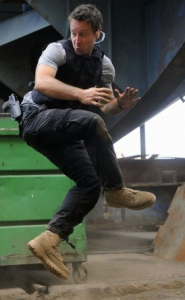 Don't be ashamed to look like Steve McGarrett from Hawaii Five-0 by wearing cargo pants. More pockets the better. See if Old Navy has some long cargo pants on clearance. In your pockets, you can hold a camera, your iPhone, a video camera, your "foamies" hearing protection, a snack or two, maybe a bottle of water, and a purchased Death Rattler shirt. You gotta haul all this around especially if you don't have your bags.
4. Travel Light
This is a two-for-one. Although only an overnight stay, you are allowed two bags with the intent of carrying one bag with you. But for your safety on the COD flight, they don't want you to carry anything that's not in your pockets (see the rationale for going McGarrett with the cargo pants?). So you'll be travelling light after the flight crew stows your second carry-around bag. Odds are that if this happens, you won't see any of your bags until you reach your stateroom which could be at the end of the day. I didn't have access to my DSLR camera until day one was about done.
Also, bring a travel light. If you got a compact flashlight, it may come in handy. While your staterooms have sufficient lights, you might not want to disturb your roommate by turning them on. Walking the passageways at night would be easier with more illumination in unfamiliar territory.
5. Compact Gear
While you might not have access to your bags, you have your cargo pants pockets so all is not lost. Then you'll need compact, versatile gear to fit in your pockets. I eventually did truck around my Canon DSLR around my neck but had other gear pocketed. A smartphone is great to have to snap pics and record closeup videos. Right before departure, I had bought a Sony HDR PJ260V camcorder, and it worked great! It easily fit in my pockets, even with an extended battery. Great picture quality, awesome sound pickup with wind noise reduction, and 30x optical zoom. Another option might be a mirrorless camera like the new Canon EOS M. A compact body but with DSLR-like image quality, and it can record movies.
Speaking of compact gear, due to the close proximity you'll be in, don't bring a monster lens if you got a DSLR. A wide angle lens would be more useful. My Canon EF-S 15-85mm was versatile enough.
6. Comfy Shoes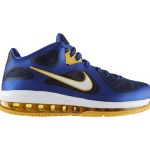 The packing list from the Public Affairs Office already tells you to bring comfortable shoes, and I'm going to reiterate that. You'll be on your feet for hours, walking, climbing, high stepping all on non-forgiving metal surfaces. Personally, if I had the means, I'd get some new Nike Air Max. The Nike Air Trainer 1.3 Max Breathe makes a statement, and a LeBron 9 Low looks like it provides a cushioned ride.
One last tip that's not something to pack (unless you can pack a buddy on your tour). Make friends quickly and take pictures for them, and they'll reciprocate. Taking pictures of fighter jets and other cool stuff onboard is fun, but taking a picture with you and this cool stuff is even cooler. Unless your self-portrait skills are good, have your tour buddy capture some memorable shots for you.
There you have it. When you get the call, you'll now be more prepared to enjoy this excellent adventure.
Acknowledgement
My embarking to and from the USS Chester W. Nimitz CVN 68 aircraft carrier during RIMPAC 2012 was made possible via my nomination by Dennis Hall, founder of Avere Group LLC (www.averegroup.wordpress.com), through collaborative referral to him by Guy Kawasaki (www.GuyKawasaki.com) and L.P. "Neenz" Faleafine (www.Faleafine.com). Dennis Hall initially submitted my nomination to the Public Affairs Officer of the US Navy's Third Fleet. The Public Affairs Officer then referred my nomination to the Office of Public Affairs, Commander, US Pacific Fleet. The US Pacific Fleet selected me for the Distinguished Visitors Program, inviting me to embark for about 24 hours during RIMPAC 2012.