During the short, overnight embark on the USS Nimitz, there were a few surprises (to me anyways). Here's a list in no particular order.
COD Landing and Takeoff
There's a lot of attention placed on the catapult launch off the carrier. Truly, it is an exhilarating experience. But there's not much mentioned about the arrested landing. Maybe I wasn't mentally prepared for the landing, but personally, I felt the effects of the landing more. For the scant seconds as the COD decelerates via the arresting cables, taking a breath felt impossible. It felt like my lungs weren't working and all the air was pushed out of me. It lasted for just a few seconds, but it was surreal.
The Inventiveness of the Marines
I loved the way the Marines adapted and overcame. Need to ceiling mount a projector? Twine is all you need.
In the close proximity of the hangar bay, you have to watch your head and not walk into things. One way to prevent a bruised noggin is by using swimming pool noodles as bumpers. Now that's using your noggin.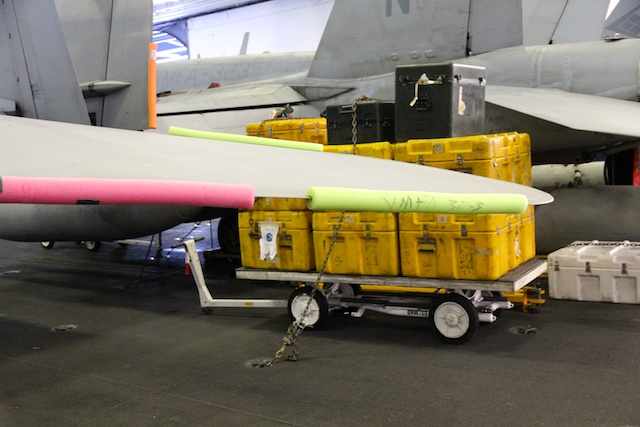 A Visit from the One Star
Like I mentioned before, our group was fortunate to meet and talk with Rear Admiral Peter Gumataotao, Commander, Carrier Strike Group 11, and Commander, USS Nimitz Strike Group. During his visit, Rear Adm. Gumataotao connected with the group as he spoke from the heart. I was impressed and surprised by his down-to-earth, earnest demeanor.
Dinner
Okay, since our DV group dined with the Nimitz's Executive Officer (XO), we were treated to a special menu. Our meal was not what the other thousands of sailors ate on board, but the same initial components were used. The best culinary specialists on the Nimitz teamed together to use the ingredients for the day and infuse their own creative twists into a memorable meal. It was like a Top Chef challenge to create cuisine using stock components. I loved every dish!
Ball Cap
Each member of our DV tour received this awesome USS Nimitz ball cap. Even awesomer is that each cap is personally embroidered in the back.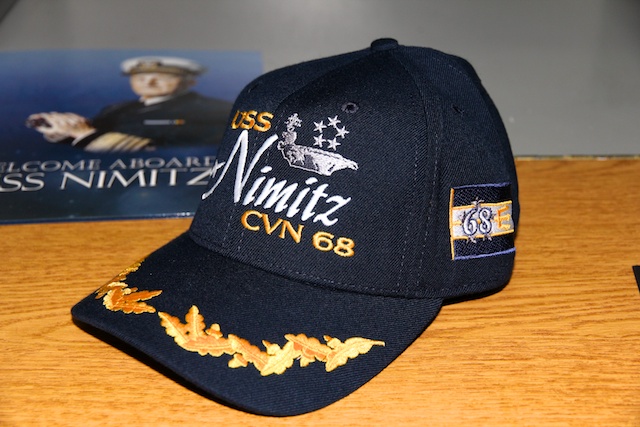 Humor
Most of the sailors we encountered showed a sense of humor I hadn't expected. The atmosphere wasn't as serious and deadpan as sailors joked with us and each other. I have to give kudos to the public affairs crew who were our tour guides. Not only were they knowledgable, but they kept our group on schedule, didn't lose anybody (okay, just once), and kept us entertained. Thanks to LT Hontz, LT O'Connor, MC3 Cotter, and MC3 Bartlett who were our primary escorts.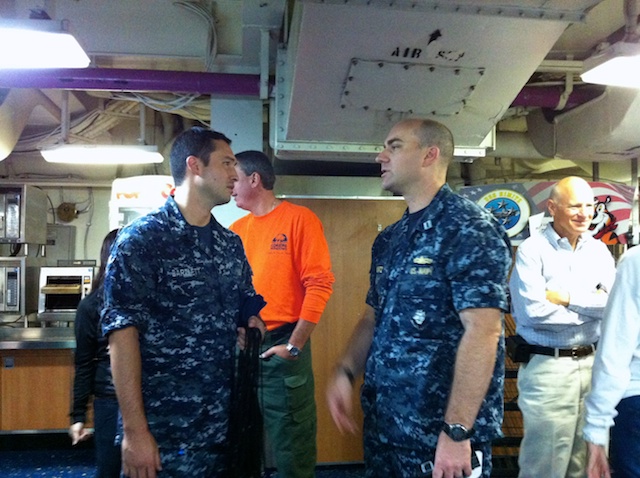 My favorite line from LT Hontz when someone asked a question he didn't have an answer for – "They do stuff there, and after that, they do more stuff." So you probably had to have been there to appreciate this humor, but his straight-faced delivery of this line was classic!
Acknowledgement
My embarking to and from the USS Chester W. Nimitz CVN 68 aircraft carrier during RIMPAC 2012 was made possible via my nomination by Dennis Hall, founder of Avere Group LLC (www.averegroup.wordpress.com), through collaborative referral to him by Guy Kawasaki (www.GuyKawasaki.com) and L.P. "Neenz" Faleafine (www.Faleafine.com). Dennis Hall initially submitted my nomination to the Public Affairs Officer of the US Navy's Third Fleet. The Public Affairs Officer then referred my nomination to the Office of Public Affairs, Commander, US Pacific Fleet. The US Pacific Fleet selected me for the Distinguished Visitors Program, inviting me to embark for about 24 hours during RIMPAC 2012.