It's been barely one week using my new iPhone 6, but here are a few more observations.
Does it bend? Seriously, what? Why is #bendgate even a thing? Um, how about not sitting on your phone to begin with. And if you had a plastic encased phone, I'm guessing the phone would crack. At least the bent iPhone 6 is still operational and it seems like Apple is replacing bent exteriors. But still, my suggestion is to not sit on your expensive smartphone.
Touch ID. I love it. Forget that the physical home button on the iPhone takes up precious real estate. The integration of Touch ID makes it all worth it. Just as fast and more convenient than taping in a password. This is the enabler of online purchasing. Yes, I am buying more with my iPhone just because it's just easier.
Passwords and Authentication. Currently, there are limitations for Touch ID so traditional passwords, and newer authentication means are still in play. Moving to a new phone means redoing many, many passwords. This gets compounded for accounts with two-factor authentication enabled. Sadly, Google Authenticator does not retain its setup when moving to a new device so you have to access your accounts, generate new codes, and scan them in. At least, LastPass has gained functionality under iOS8 and is more easily accessed to help with passwords.
Slow-Mo. A fun option to have for fun effects like when I saw the new BMW i3 EV in the neighborhood. I swear it felt like this slow-mo video when I first spotted this progressive car.
[youtube https://www.youtube.com/watch?v=7OHYcZ9jIzE]
Battery Life. Better than my iPhone 5 but not better than my Android-based LG G3. I'd say the battery lasts a day and a half whereas my iPhone 5's battery lasted about a day. The LG G3 lasts 2-3 days easily. Leaving the house with a 40% charge would cause anxiety with an iPhone 5, not so with the 6. I'd return home hours later with 20+% remaining. Only problem is that a 1.5 day charging routine isn't so easy to maintain.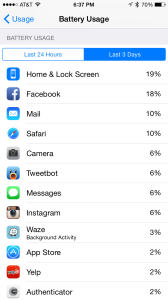 App Battery Usage. Tied to battery life is knowing what's consuming battery power. iOS8 has a new feature that shows the battery usage of all your apps. I don't know how to really use these stats. Because I use Facebook quite often on my iPhone, it makes sense that battery usage is correspondingly high.
Running. I've been running with my iPhone 5 after my fitted case for my old school iPod Nano broke. I got used to running while holding the iPhone in my hand, able to change volume and songs easily. Running with the iPhone 6 feels the same though I doubt I could comfortably handhold the 6+ while running. The presence of the M8 motion coprocessor sure helps save on battery life. Typically, I'm streaming music from iCloud, and battery goes down nearly 10% after a 30-45 minute run. Battery drain is single digits with the iPhone 6.
Two-handed use. Get over it. One handed operation is possible, but two handed is the new reality, even with a 4.7-in iPhone 6.