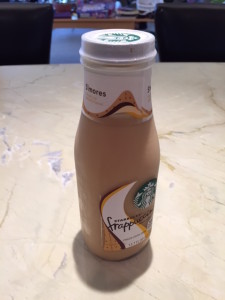 The countdown is at one day before the American public is reminded of their youthful summers via the S'mores Frappuccino. Until the crafted drink is available, there's the bottled version that has to be just a specter of the real deal. I mean how can this premade version of the S'mores Frappuccino go up against marshmallow whip cream, chocolate sauce, and graham cracker syrup and toppings?
Let's do a quick taste test of this S'mores Frappuccino that's available at groceries right now. Visually, this Frappuccino is lighter in shade, more like the Bottled Vanilla Frappuccino, and expectedly, you don't see any of the unique qualities of the prepared Frap (meaning the graham cracker sprinkles). You just see a light brown liquid. It's 290 calories in 13.7 fl oz.
First sip. It tastes graham-y. Yes, really. The scent of the drink throws me off a little. There is a graham cracker like smell to the drink, so your head is thinking of a solid cracker but then your tongue feels a liquid.
I'm getting a aftertaste/feel after a few sips. My tongue feels kinda dry, not sure why. In general though, this bottled S'mores Frappuccino tastes like the other bottled Frappuccinos. Somewhere in between vanilla and caramel. I don't taste the chocolate and maybe that aftertaste is supposed to be the marshmallow. In fact, I think it is indeed that.
I'm already not a fan of these bottled Frappuccinos, and the new S'mores flavor hasn't convinced me otherwise. My recap: typical bottled Frappuccino taste, a graham-y scent, and a marshmallow-y aftertaste for +$3.00 per bottle.  I'll pass, but I am looking forward to a more authentic experience on Tuesday.