I'll be honest and say right up front that the Starbucks S'mores Frappuccino is an absolutely great tasting drink. Calories and fat content aside, the drink throws various textures and yummy flavors at you. But here's the big "but" – I don't taste the s'mores in the S'mores Frappuccino. While the s'mores components may be there, the drink itself just tastes like a good Frappuccino, not a S'mores Frappuccino if you know what I mean. On top of that, I'm not in the s'mores target audience and can't relate to the nostalgia the drink is supposed to evoke.
Nothing says summer like the laughter and memories shared around a crackling campfire.
But you know what? Experiencing s'mores by the campfire is something I'm sure America's favorite family, the Bradys, must have done. In fact, this S'mores Frappuccino reminds me a lot of the Brady kids….
Starbucks describes their limited seasonal creation as follows:
The layered beverage starts with marshmallow-infused whipped cream and milk chocolate sauce; adds a creamy blend of graham, coffee, milk and ice; and is finished off with marshmallow whipped cream and a graham cracker crumble.
And here's how Greg, Marcia, Peter, Jan, Bobby, and Cindy match up.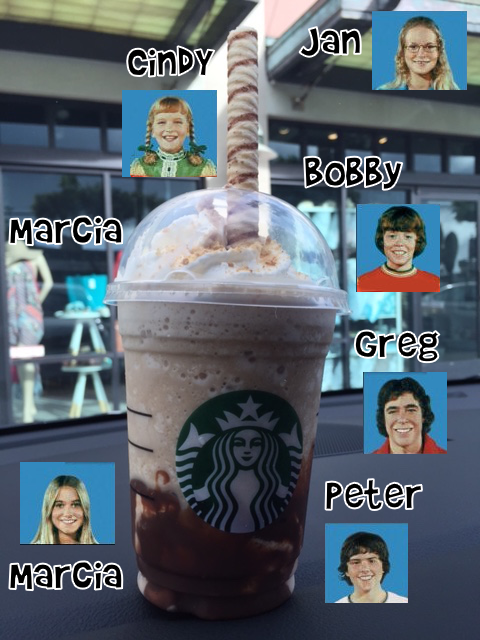 Marcia, Marcia, Marshmallow! You don't have to brush your hair 100 times before realizing that the S'mores Frappuccino is all about Marcia, Marcia, Marshmallow! The visuality of this drink starts and ends with the marshmallow whip cream.
The milk chocolate sauce is for the only brown-eyed Brady, Peter. Peter's kind of messy and all over the place just like the layer of chocolate sauce. And trust me, when you inhale that chocolate sauce, your voice will crack like a pubescent Peter Brady.
Greg Brady is the Frappuccino in the drink, bringing in the core of coffee, milk, and ice but with the s'mores graham giving some Johnny Bravo sweetness.
Then it's more Marcia, Marcia, Marshmallow on top with a graham cracker crumble of Bobby Brady.
Sure, Bobby was around but somewhat overlooked, just like this crumble. It's there, but once in the mix, you easily forget about Bobby.
The edible cookie straw embodies pigtailed Cindy Brady. Purse your lips to coo about Cindy's lispy cuteness and purse your lips as you drink out of this cutesy straw.
What about middle sister, Jan Brady? Where is she in the S'mores Frappuccino? Well, the bespeckled Jan has a special place as the bottled version of the S'mores Frappuccino. Of course, the bottled version doesn't have the Marcia, Marcia, Marshmallow and is a step-down from the prepared S'mores Frappuccino, but that is Jan's existence.
So as you're enjoying your S'mores Frappuccino, sing along with the theme song you already know by heart.