The Starbucks Reserve Roastery location in the Waikiki Trade Center is the only place in all of America where you can order a Haupia Nitro. Yup, that's a nitro cold brew infused with a coconut blended mixture. The walls of the special Reserve cup are lined with condensed milk (I think), and the finished drink looks like this.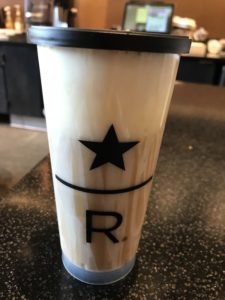 Like any other Nitro cold brew, this drink is amped on caffeine. The taste is kinda strong for my preferences, but the haupia mellows it out overall. This is an expensive libation though, coming in at $6 for a grande, but keep in mind that since there's no ice added, it's all unadulterated coffee.
If the Haupia Nitro is not for your palette, be sure to check out the other unique menu items at the only Reserve Roastery in Hawaii.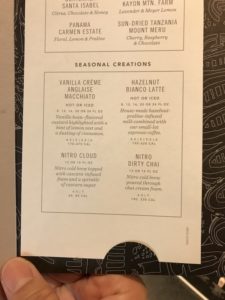 Or better yet, ask the barista for a recommendation, and let her photobomb her creation for you.