This post's title says it all. I've said good things about Nordstrom, but I've shared mostly bad experiences shopping online. Why you ask? Because this customer service-centric company does stuff like this.
They cancel two of my online orders due to lack of stock. Yet, what did I see while poking around men's shoes this past week?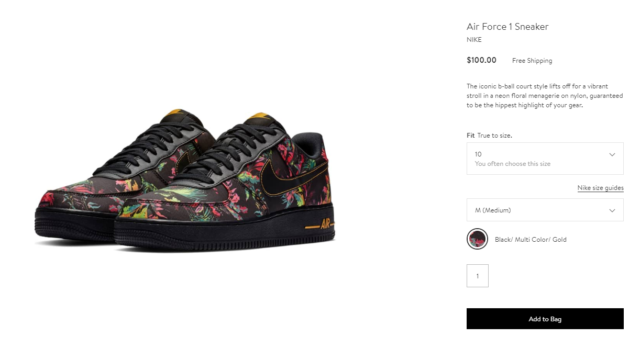 Yup, this floral Air Force 1 was the first of my cancellations. But it doesn't end there. Scrolling down on the page, I came across these Air Max 98 Wild West.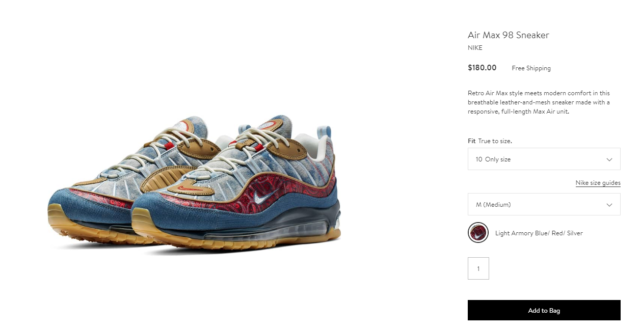 No kidding. This had been the second of my cancellations, and to top it off, both of these shoes were nearly the sizes of my cancelled order (I had ordered a size 10 AF1 and a 10.5 AM98. Both of those in stock are size 10). I have to assume both models came from other cancelled orders or returns.
And then, here's the kicker. Remember back in October 2018 when my Nordstrom order for the Nike React Element 87 was cancelled? Yes, this chronicled one of my earlier disappointments with Nordstrom. Guess what showed up online? The same exact shoe that was cancelled – Nike React Element 87 Total Orange colorway in size 10.5. Some kind of twisted fate?
I placed my order knowing the probable outcome and look what showed up.
There was no original box, but the shoes are fine. I don't know what happened here – a very late return, hiding in the warehouse, old stock from a retail location? I guess I need to say thanks Nordstrom. Let's just work on fulfilling orders the first time around. 😉