Okay, EastBay and Finish Line may actually be pardoned after what I witnessed with ShoePalace.com. During a hyped release, you'll see this timer counting down from two minutes.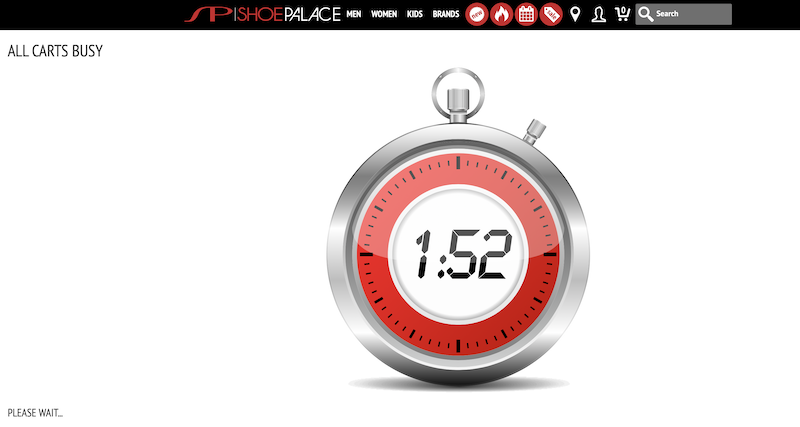 The accompanying text is below:
PLEASE WAIT…
You are probably seeing this because something HOT is going on right now — a new release, a restock, or something like that.
In the meantime, let us explain…
Shoe Palace has the fairest and most-advanced system in the marketplace. We offer great chances of copping a pair of hot kicks. Our release process is built around two principles:Our system meters out the products over a couple hours. We do this so that you don't have to have to be there the second it launches and compete against the bots.
Our advanced software monitors each user. If you are a bot, constantly refreshing your browser, being impatient or obnoxious enough, the system will automatically reduce your chances or ban you from the site. Patience and persistence will be rewarded. Play nice.
HINT: For the best chances, try no more than every two minutes. Use the handy timer above to help you know when your next chance may be up.
So every two minutes, you have to manually click on Try Again button and go through the shoe sizing picking process again. Then you hope you don't get the timer again (which you will, time after time after time). It's maddening although I have heard that if you persist, you have a legitimate shot of a successful check out. Too painful for me…