How I underestimated the power of the Army. I mean really it's Chicken McNuggets, fries, a drink, and two new dipping sauces. But it's not. It is the BTS meal at McDonalds… and this meal features a special paper bag… and possibly a $1 price tag… and the Army of BTS.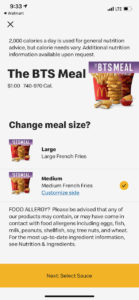 The meal appeared on the lunch menu within the app but when I actually went to order, I got this instead.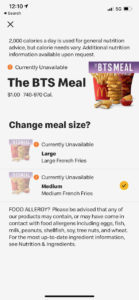 Yes, unavailable… on launch day. Must be an app glitch right? I drove down to the nearest McD and saw these promising signs.
So I went to place my order on the kiosk but what's this?! Out of stock.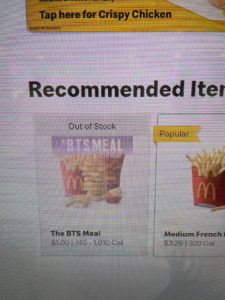 I tried asking the workers about the meal but didn't get far. They said I had to use the app to order the "BTL" meal and that they could not ring up the order to get the (promotional) pricing (whatever that is). Not gonna lie, I was somewhat upset about the overall experience and confusion over McNuggets, fries, and a drink.
As a consolation, I asked for the new sauce and got Cajun.
And while the Cajun sauce looks like nacho cheese, it does pack some heat.
Did you have any success finding the BTS x McD meal? How much did it cost?