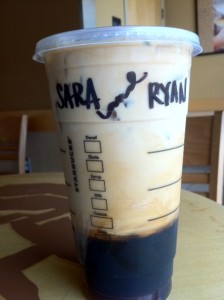 I had a Red Eye at Starbucks after hearing an order for a Black Eye. A Red Eye is regular coffee (iced or hot) with a single shot of espresso added in. A Black Eye has two shots of espresso for some major caffeine-induced jitters. The Red Eye is pretty good and has a smoother taste than regular iced coffee.
I asked the barrista about the Black Eye who explained the drink along with the Red Eye. Weird thing is, he said the employees are not allowed to call these drinks Red Eyes or Black Eyes. They know what they are, but when calling out your drink for pickup, they're supposed to use the non-slang terminology of coffee with an extra shot (for a Red Eye). Not sure why but that's Starbucks policy.
I remember hearing about a "ghetto latte" before but never did order that "drink." Though I do understand trying to cut costs since latte drinks hover in the $4-5 range which quickly adds up, especially if you're going more often to get some handpicked music.