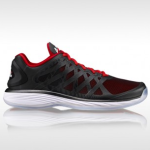 Banned in the NBA for providing players with an undue competitive advantage, you may see shoes made by Athletic Propulsion Labs (APL) on the neighborhood courts. Outfitted with APL's special Load 'N Launch technology, these kicks supposedly give you more hops. I'm not talking Spud Webb springs but hey, if your dream is to jam one home, then maybe the Load 'N Launch is the missing piece.
According to the company's FAQ, the average increase in jumping ability is 3.5 inches. An added 3.5 inches to your vertical ain't nothing to ignore. Perhaps you can be like 5-5 tall Porter Maberry, throwing'em down in APLs.
Check out the APL basketball and now running shoes this holiday season.
More suggestions from the Pulpconnection Holiday Gift Guide, 2014 edition.
Follow Gee Why's board Holiday Gift Guide 2014 on Pinterest.