Truthfully, I didn't know what I was getting myself into. On Instagram, I was seeing a lot of images of resdesigned, classic Nike silhouettes with that telltale red zip tie. These images were tagged #offwhite and #theten. Then I learned "The Ten" was a collaboration with designer Virgil Abloh. But as soon as Nike announced the launch of The Ten on the SNKRS app, the hype went into overdrive. Every few hours Nike would release a few models of the Off White collaboration starting with the Presto and ending with the Jordan 1.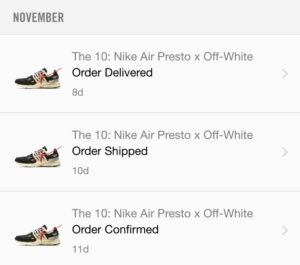 Had to try, right? But also had to expect disappointment when taking the loss. But then I didn't. Instead of "taking the L," I got a confirmation from Nike for my Presto order. Despite online ordering delays caused by invalid payment types (yes, my credit card is not a debit card, Nike), my order went through quickly. Too easy so must be a wide spread release I guessed. Then I checked the demand at Stockx and was amazed.
After getting the Prestos, I knew why. It's the details and the amazing number of details in this collaboration remix.
The laces, the stitching, the folds, every aspect of the shoe appears to be tailored to be different yet the same as the classic Presto. I can understand why there's banter that this model could be one of the top releases of 2017 and easily my greatest pickup. Alas, I didn't luck out with any other members of The Ten. But these Prestos…
SaveSave