I'm sure it can't only be me, but has shipping packages this holiday season been slower than previous years? I don't ever recall having so many parcels delayed or even damaged. I even thought one of my UPS packages was stolen only to find it delivered five days after it was reported. Must be the sheer number of online orders is putting a huge strain on USPS, FedEx, and UPS. Almost every delivery service seemed to have suffered this season.
In years past, purchases with Amazon Prime shipping to Hawaii arrived in 2-3 days, really unheard of compared to the typical 5-7 days of free shipping. But this year, I was lucky to get my Amazon deliveries on time. One order was literally destroyed with only the box label delivered. Yup, just the box label, no actual contents of the box.
Like I said, I had thought a UPS delivery was stolen since it was reported as delivered. I couldn't find the said-delivered package so reported a lost package and started a claim over the Christmas weekend. Nothing came of it during the weekend and by the time I received a response, the package showed up even though the reported delivery date was five days prior.
I was supposed to have received another Amazon order on Wednesday by 8pm (via USPS by the way). At 8:11pm, I checked the delivery status and saw this.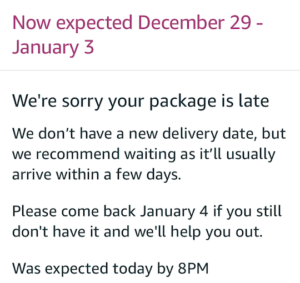 How was your shipping experiences this holiday season?