Nordstrom has redeemed itself, partially at least. Last you remember, Nordstrom cancelled my discounted order for a pair of Air Jordan 1 mid, in a shadow-like colorway (I've since learned that these are not THE premium Shadow AJ1 highs). They just couldn't fulfill the order.
But seeing the here-now-gone-tomorrow nature of these shoes, I persisted, checking the site's inventory every now and then. And it paid off. One day, an AJ1 in an obsidian, game royal colorway appearend on-site. Not a premium model but still discounted, last pair, and my size. So I ordered it, expecting to get yet another cancellation.
Then redemption…
Thanks Nordstrom!
Oh, about that Air Jordan color-blindness. From the pictures above, you can see the shoes are a mix of dark blue and royal blue. On the Nordstrom site, I had thought these shoes were black and royal blue (see the image below).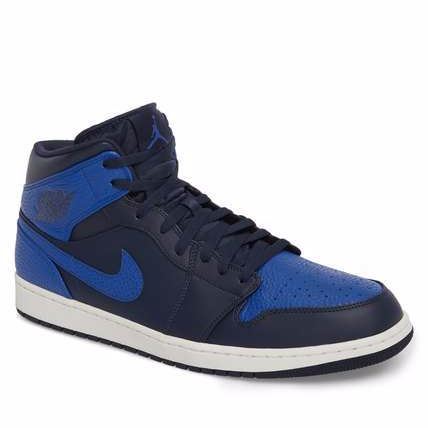 If you remember, I had also bought a pair of Air Jordan 31 on clearance from Nike. I thought these were black and white when really they were dark blue and white.
I guess I'm just color-blind when it comes to Air Jordans? But really, I can't complain after getting both at reduced prices.
SaveSave
SaveSave