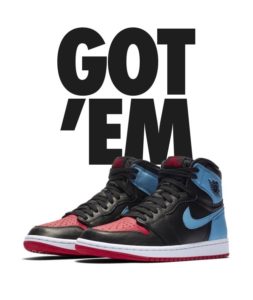 Although not yet the Ides of March, I have been betrayed disappointed by yet another Footsite. Historically, any purchase of in-demand sneakers from Footaction online led to cancelled orders. Last month, it was the same with Champs Sports, failing to deliver a Yeezy 350 Yeshaya colorway.
But this week, the mighty Foot Locker didn't come through with an order of the Air Jordan 1 UNC to Chicago. I managed to get my size (US10 Men or 11.5 Women) and got a confirmation email. Cool.
Then a few days later the downfall began with this email. From my past experience, this delay is how Footaction cancellations started. Not a good sign.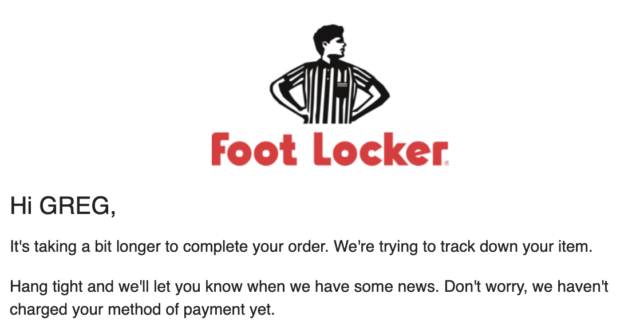 Not hearing anything for the next few days was somewhat promising (I think) so I checked my online order and saw that the shoe had a status of "SHIP FROM STORE." That was definitely a red flag since all cancelled Footaction orders had the same status. You see, the Footsites ordering system is flawed for Hawaii (and Alaska I take it). Their system will allow consumers to buy products including in-demand sneakers. However, as inventory in their shared main warehouse is depleted, the orders are farmed out to a secondary warehouse or retail stores to fulfill using their stock. Now here's the flaw. These other locations cannot ship to Hawaii (for whatever reason). So while the shoe may be availalbe, they simply cannot ship it to the Aloha State. And if they try to reroute order fulfillment back to the main warehouse, odds are the hyped shoe will be out of stock.
This morning Brutus (aka Foot Locker Customer Care) delievered the lethal strike:
Thank you for your recent order. We regret to inform you we were unable to fulfill some or all items from your recent order number ####### due to lack of product availability.
So Footaction, Champs Sports, and now Foot Locker betrayed me with confirmed then cancelled orders, seemingly because I'm in Hawaii and their ordering system cannot accommodate this location.