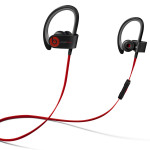 If you're on Santa's Nice List, you have to ask for the Powerbeats2 Wireless. Because once you get these and start reminiscing about the past then you're two-thirds the way to an awesome physique. Check out LeBron James as an example.
Pair of the Powerbeats2 Wireless? Check.
Remembering his heritage and returning home. Check and double check.
NBA-ready body? Judge for yourself.
Oh wait, there is a missing element to this, and that's Take Me to Church by Hozier. I'll make this easy on you. Order a pair of Powerbeats2 Wireless
using my Amazon link, and I'll gift you a copy of Take Me to Church! So all that's left between you and an NBA physique are your memories.
More suggestions from the Pulpconnection Holiday Gift Guide, 2014 edition.
Follow Gee Why's board Holiday Gift Guide 2014 on Pinterest.