Well, my chance at getting my Nike Wishlist came true. But first, I gotta say thanks to the No Ka Oi connection for a dream come true. I thought visiting the Nike Company Store in Beaverton, Oregon was a long shot, but the Nike gods were with me.
Let's rewind to a Thursday morning in July when I was in line at the Company Store before its opening at 10am. It was game time, and I knew my first target was the "back wall" of shoe odds and ends. You just never know what you'll find (and find I did).
But what was I looking for? Read up on my Wishlist series with version 4 looking like this:
Air Max 97 VaporMax/Air VaporMax Plus ($190)
Air Max 270 ($170)
Odyssey React ($120)
React Vapor Street Flyknit ($180)
Kobe 1 Protro ($175)
React Element 87 ($160)
What I ended up with, looked like this.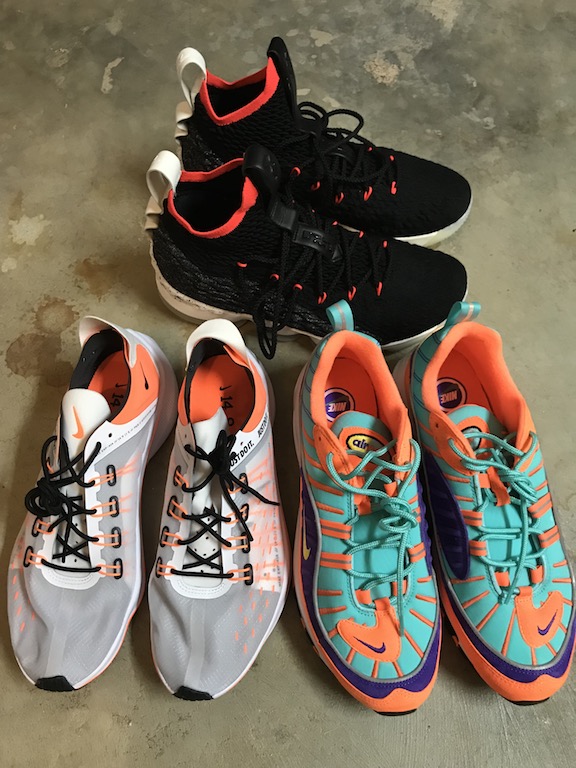 If you recall my original list, I had the LeBron 15 but then changed to the LeBron 15 Low in Update 1. But as fate would have it, the colorway I randomly used in my original Wishlist is the exact colorway I found on the back wall in my size! Yeah, I did say the LeBrons didn't fit my feet well so I did try them on again in the Company Store and even wandered the aisles finding other shoes to try on while wearing the BattleKnit LeBrons. And that's when I changed my mind. The overall feet of the LeBron 15 was top-notch. The support, the feel of the materials, the colors. I couldn't put these back to the back wall.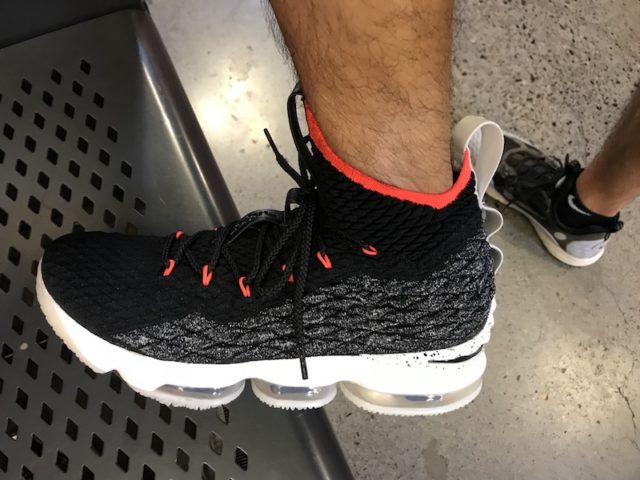 Then there's those crazy Perry the Platypus colored Air Max 98. Truth be told I coveted these shoes when they released on Nike's SNKRS app. Truth be told I passed on them and regretted it. Truth be told I have a watch on GOAT for these shoes going for around $180. Truth be told I was amazed to see a few of these on the back wall. Truth be told they're a little big at size 10.5, but truth be told, I wasn't putting these back. So that's two from the back wall.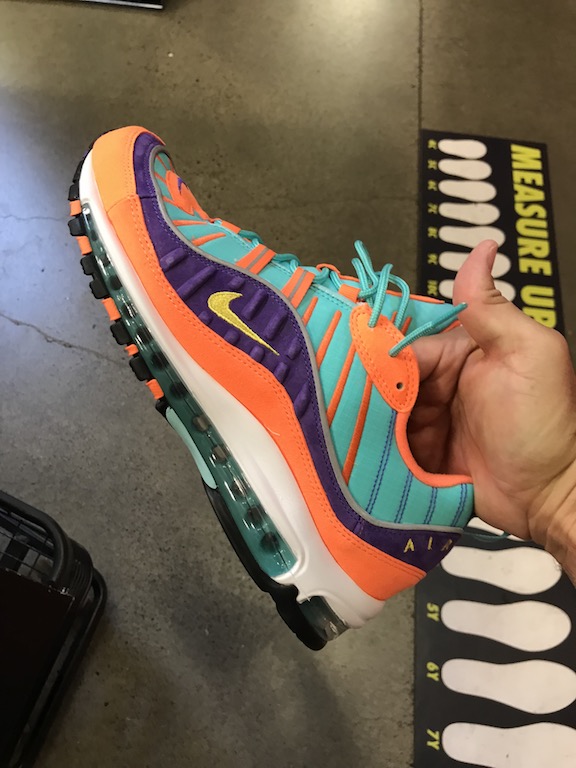 So what about my Wishlist? I did try on the VaporMax 97, and they were okay. Plenty were in stock in different colorways, and I even tried on a variety of VaporMax models. The Utility model wasn't bad but overall, none of them were keepers.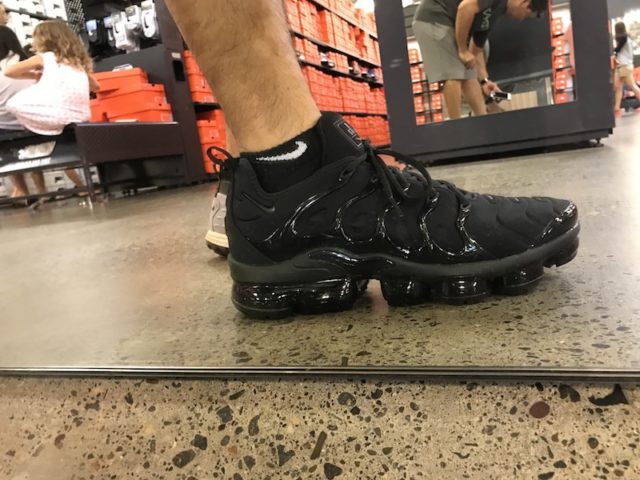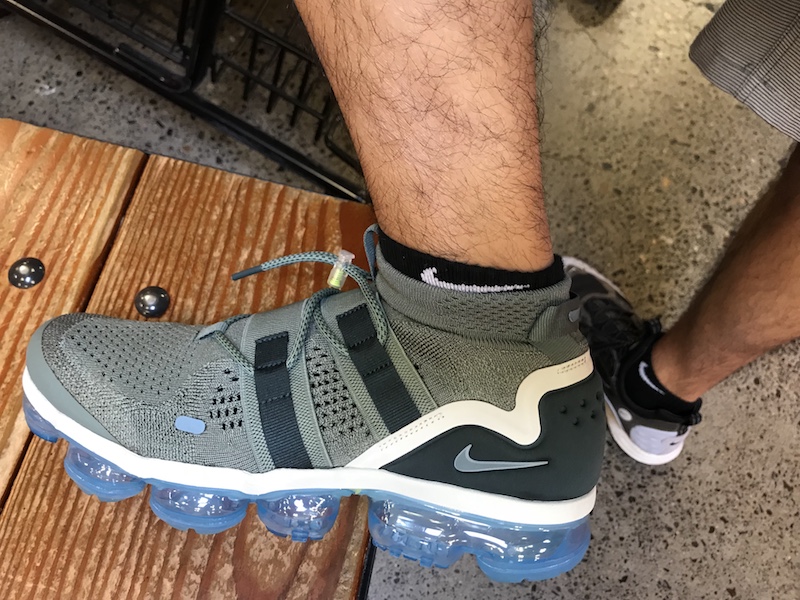 The same goes for the Air Max 270. So many colorways. Some nice ones on the back wall as well, but none stood out. I tested out the Air Force 270 line for a change on the 270 bubble, but none of them resonated with me.
The Odyssey and Epic Reacts were really the most disappointing for me. I was fully commited to buying one of these React models to run in. But they just didn't feel right. Super snug, going up half a size made the fit better. But the arches on both models felt problematic, and I really didn't want to buy running shoes that would either be non-supportive or chafe too much.
Kobe 1 Protros had lots in stock. I even found a few Lakers gold and purple colorways on the back wall, but these shoes are super stiff. I didn't like them as soon as I put them on.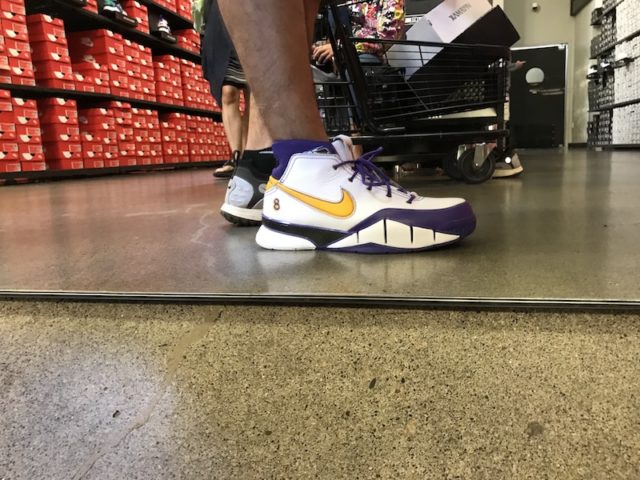 The React Element 87 that released that week was a long shot to find, and I was correct in that assumption. But the React Vapor Street Flyknit was there, and they felt great. Surprisingly great. I was super close to buying a pair.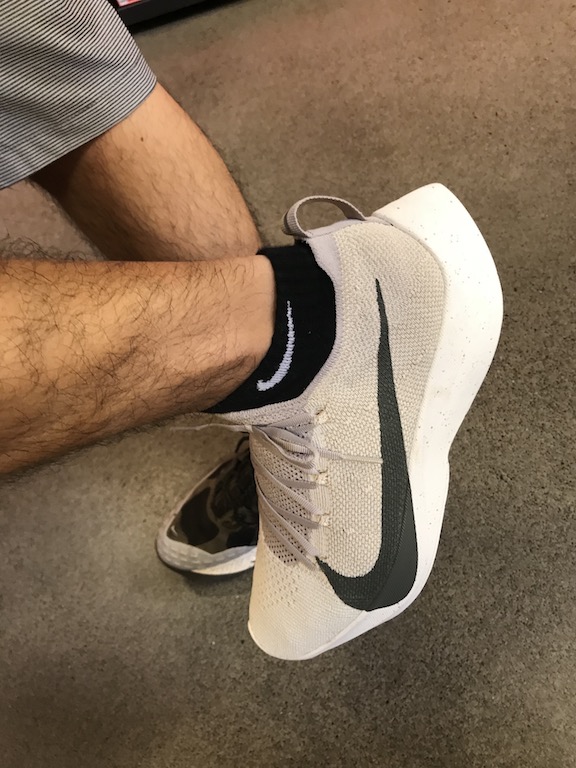 But right next to these were the brand new EXP-X14 that released the week prior. The colorways were neutral with either white/wolf grey or mountain blue, but of course, I had to try the on since they were right there. I'm glad I did. Super comfortable and an overall different feel and vibe to this shoe. I put back the Vapor Street in favor of a white pair of EXP-X14 which was also my substitute for missing out on the Element 87. While looking for my size, another shopper asks if I wanted the X14 in the Just Do It colorway. I don't know where he found this special colorway since I didn't see any others. And can you believe they were in my size too?!? Was meant to be…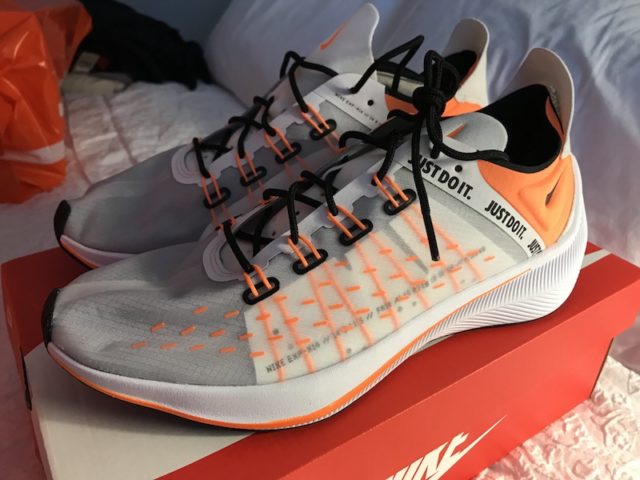 While I tried on many more models and also helped family members pick out kicks (Epic React and Pegasus were popular), in the end, my Nike Wishlist was this:
LeBron 15 Black/Sail/Bright Crimson
EXP-X14 JDI
Air Max 98 QS Cone/Tour Yellow-Hyper Grape